Patio Talk: Choosing the Right Patio for You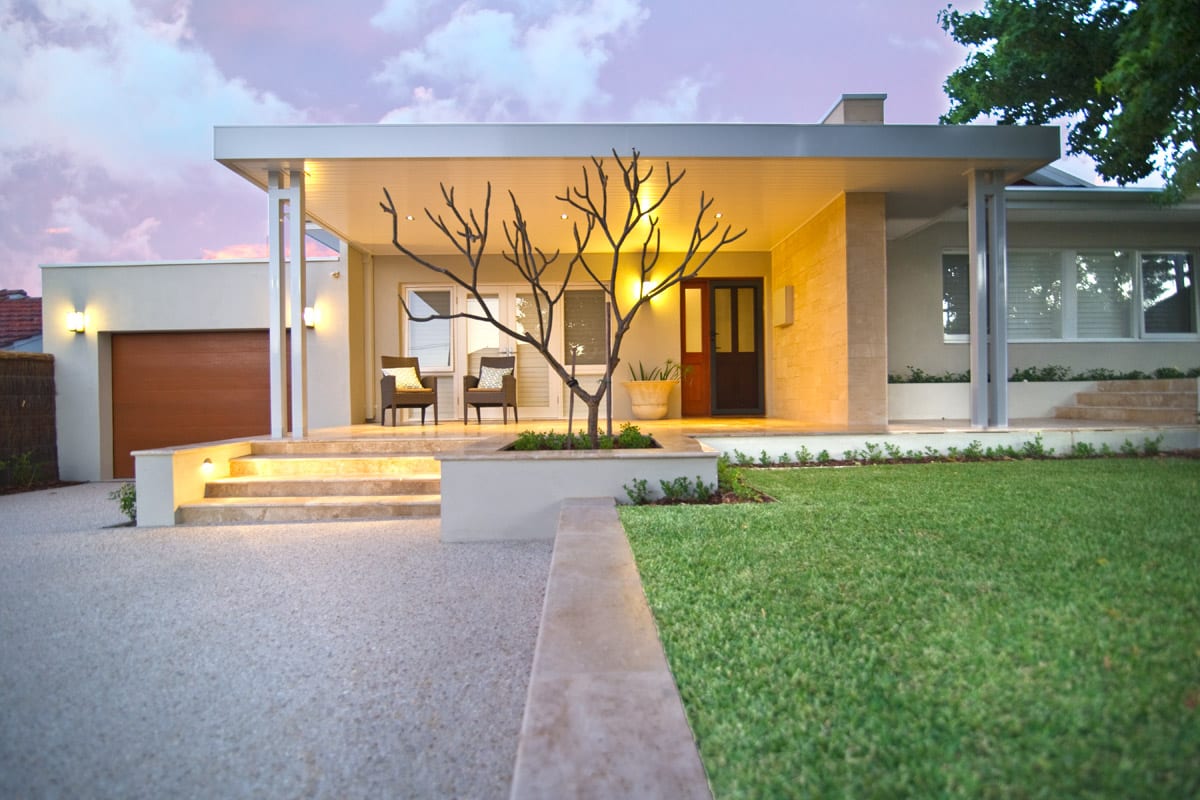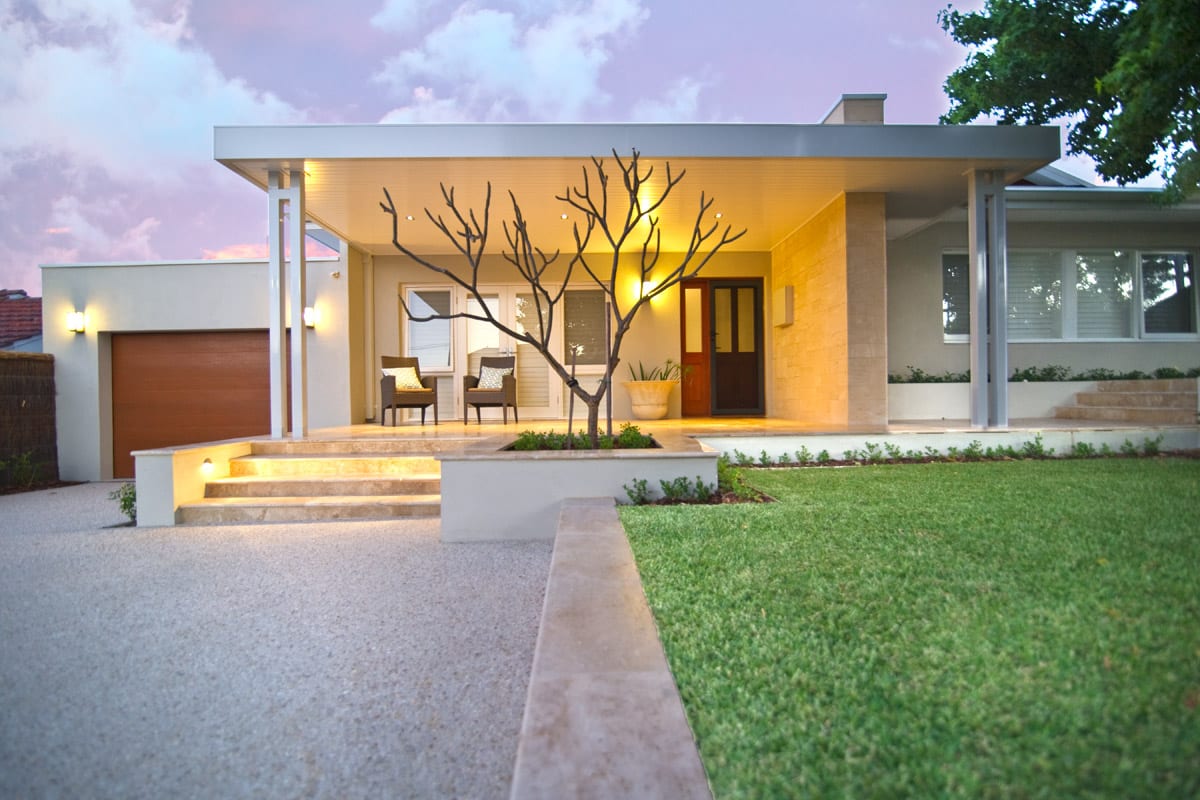 Posted: Mar 17th, 2020
In:
Patios
30 Second Summary:
With so many patio types, it can be difficult to decide or even understand your choices!
Outdoor World offers customers across Western Australia a wide range of custom-designed patios.
Whether you want to beautify your backyard or garden, extending your home or creating a freestanding alfresco entertainment space, a gorgeously designed patio can help you turn your backyard from meh to wow.
So many patio types, so many choices!
Getting a new patio installed is a big decision, and with so many options and so much jargon it's easy to get a bit overwhelmed! Here in sunny Western Australia, there's plenty of benefits to having a patio – a shady spot to relax while enjoying your backyards, keep your plants out of direct sun, or even turn it into an outdoor gym. It's handy if you've got a small kitchen, too – who doesn't love a great Aussie BBQ? But with complex terminology, it's easy to get confused: hip-end patio this, eclipse-roof patio that, gable patio what???
Fortunately, here at Outdoor World we're all about making Western Australian backyards better and your life easier, so here's a handy guide to some of the different types of patios you can choose from to make your house even more of a home.
Dome Patios
A dome patio design is one of our most popular styles at Outdoor World! The extra height of its curved roof allows for increased airflow, making it perfect to cool you down on a hot summer day and allowing for more natural light. If you've got high windows, this is great too: you're less likely to get your views obstructed.
Dome patios are ideal for many uses – from covering a walkway, enhancing an entrance or adding a gorgeous entertaining area to your backyard, you're only limited by your imagination! Dome patios can be also used over off-street parking areas with the elevated roof making them perfect to cover your car, boat, caravan, or motorhome.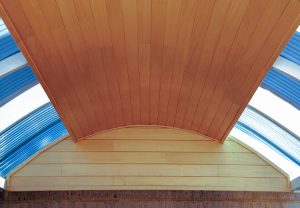 Eclipse Roof Patios
An eclipse opening roof patios is a highly functional and impressive addition to your home. These patios can be constructed with either a pitched, angled or flat roof, giving you complete control of how much light or shade you let into your outdoor living space via the automatic operation of motorised louvres.
Outdoor World's eclipse roof patios are Australian-designed to handle extreme heat, strong winds and corrosive coastal environments, and all of our aluminium eclipse louvres and stainless steel components are engineered to the highest standards.
In summer you can even leave the louvres slightly open to let hot air escape while providing sun protection. In winter, you can close them during times of rain, or angle them to attract natural light and warmth saving you on energy costs. All this, at the mere flick of a switch!

Learn More About Eclipse Roof Patios
Flat Patio
A flat roof patio can be used to extend your roof and create a seamless expansion of your outdoor living area, and its simple, traditional design ties in well with lots of different house styles.
Use a flat roof patio over an entryway to improve the street-appeal of your home, or above walkways to create covered access paths. These patios can be designed and constructed to any size, so can be built over any section of your property. This minimalist but beautiful style stands the test of time, and is a cost-effective solution to create an outdoor entertaining area while adding value to your home.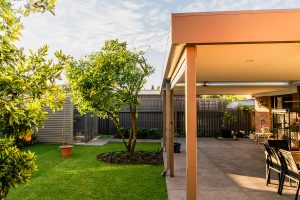 Gable Patio
A truly classic patio design, the gable patio boasts a peaked roof shaped like an inverted V, and is gorgeous with many different home styles. This patio type is very versatile, and can be installed standalone or combined with a flat roof depending on what you'd prefer.
A gable roof patio is similar to the dome patio style; the high roof allows for maximum air-flow while letting in plenty of natural light in your outdoors living area, letting you use your patio comfortably in all kinds of weather, from rainy days to scorching summers.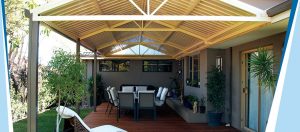 Learn more about Gable Roof Patios
Hip End Patio
For a look that's more than a little hip! ? Similarly to gable patios, the roof of hip end patios design are peaked like an inverted V, but with more subtle lines. They're often used to extend gable patios, for a striking look.
Hip end patios are perfect both to extend your home or as a freestanding alfresco entertainment area. We can customise your hip end patio for your individual requirements and colour preferences, so you can get closer to your dream backyard. This versatile patio style is popular over a pool area to offer protection from the elements, or you can even use it for a separate outdoor dining area that is away from the main house.

Learn More about Hip End Patios
Insulated Roof Patio
Outdoor World is proud to stock SolarSpan® insulated patio roof panels for your flat roof, gable roof, or hip end patio.
These panels not only look fantastic, but they offer the combination of roofing, insulation, and ceiling in one simple product. This lets you keep your outdoor living space comfortable all year round, with insulated patio roof panels that reflect heat and protect your family and home from the harsh summer sun. They also minimise exterior noise and are available in a wide range of colours to suit every setting.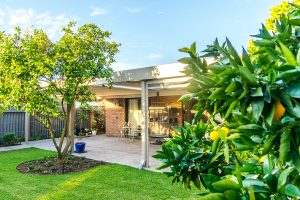 Learn More about Insulated Roof Patios
Pergola
Many people use the term "pergola" and "patio" interchangeably, but technically a pergola is a similar but different structure! Patios are designed to expand your home, turning your garden or outside space into an additional living space, whereas a pergola is designed to beautify your garden.
Pergolas are versatile structures which can be made as enclosed or as open as you'd like, and many pergola owners create a natural and lush partition with climbing or trailing plants, or make use of shade screens. They're a great way to add a touch of glamour and privacy to your garden!
A pergola from Outdoor World can be custom designed to suit whatever space you have. If you're looking to create a secluded, shaded retreat in your backyard then a pergola may be just the thing. Several different roofing options are available, including an open roof style that may not even require building approval from your local council.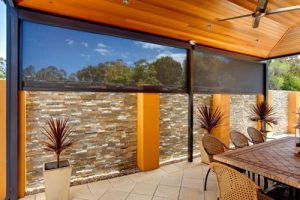 We hope we've piqued your interest! Next, check out our full range of patios, and get in touch with our patio-passionate team at your local Outdoor World store.
Want to know more about patios? Check out our articles on 10 Ways to Pimp Your Patio, and 5 Tips to Getting Your Patio Summer-Ready.