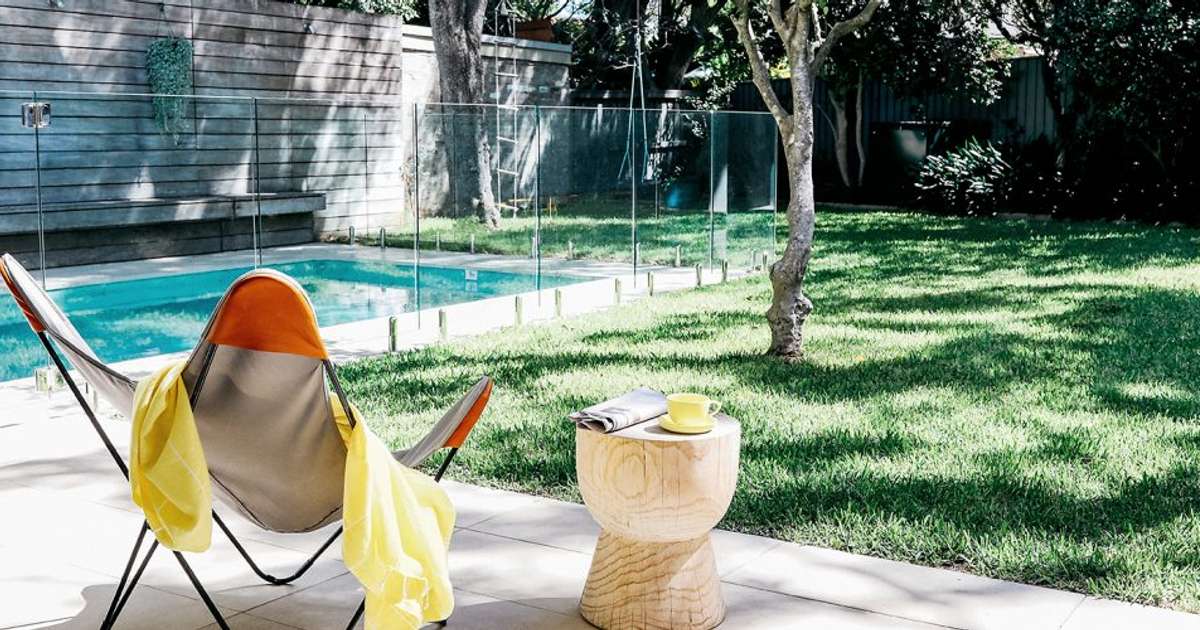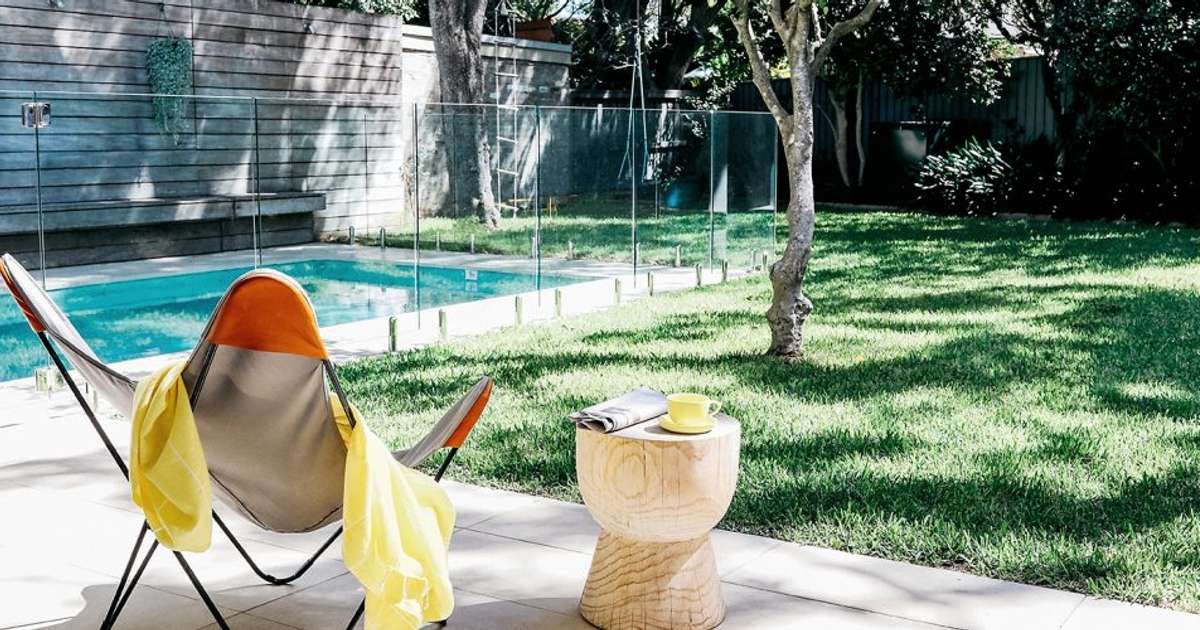 Image Credit: Elise Hassey
There's nothing more quintessentially Aussie than a backyard summer holiday BBQ! Your patio gets a lot of use in summer as you entertain friends, hang out with family and generally live your best summer life. But we sure do get some scorchers here in WA, so as the Frank Sinatra Chrissie song goes "when the weather outside is frightful" (frightfully hot, in our case!) it's time to look for ways to not let it scorch, let it scorch!
Fortunately, us at Outdoor World can rightfully call ourselves patio experts: not just in that our crew have installed thousands of them over the years, but in that we love spending time with our families and friends on our own patios, and we've rather got the whole patio lifestyle down to a pat. Here's our top outdoor patio cooling ideas for this summer, so you can make the most of your own outdoor world.
Get a Shade Umbrella
Have you seen those big shady umbrellas in pictures of resorts around the world? Imagine how nice would that look on your patio – and how much cooler you'd feel. These shade umbrellas for patios are mostly made of the same kind of fabric as patio cushions are, and their handles may be aluminium or wood. You'll find them at outdoor furniture shops or on the web: just make sure that they're constructed in a way that's resistant to the elements (i.e. water, mould, sun damage, mildew). And ideally, look for the ones that have a good UV rating. We heart this 3-metre outdoor hanging & folding umbrella from Temple & Webster, which will suit a variety of styles, from super contemporary to more classic.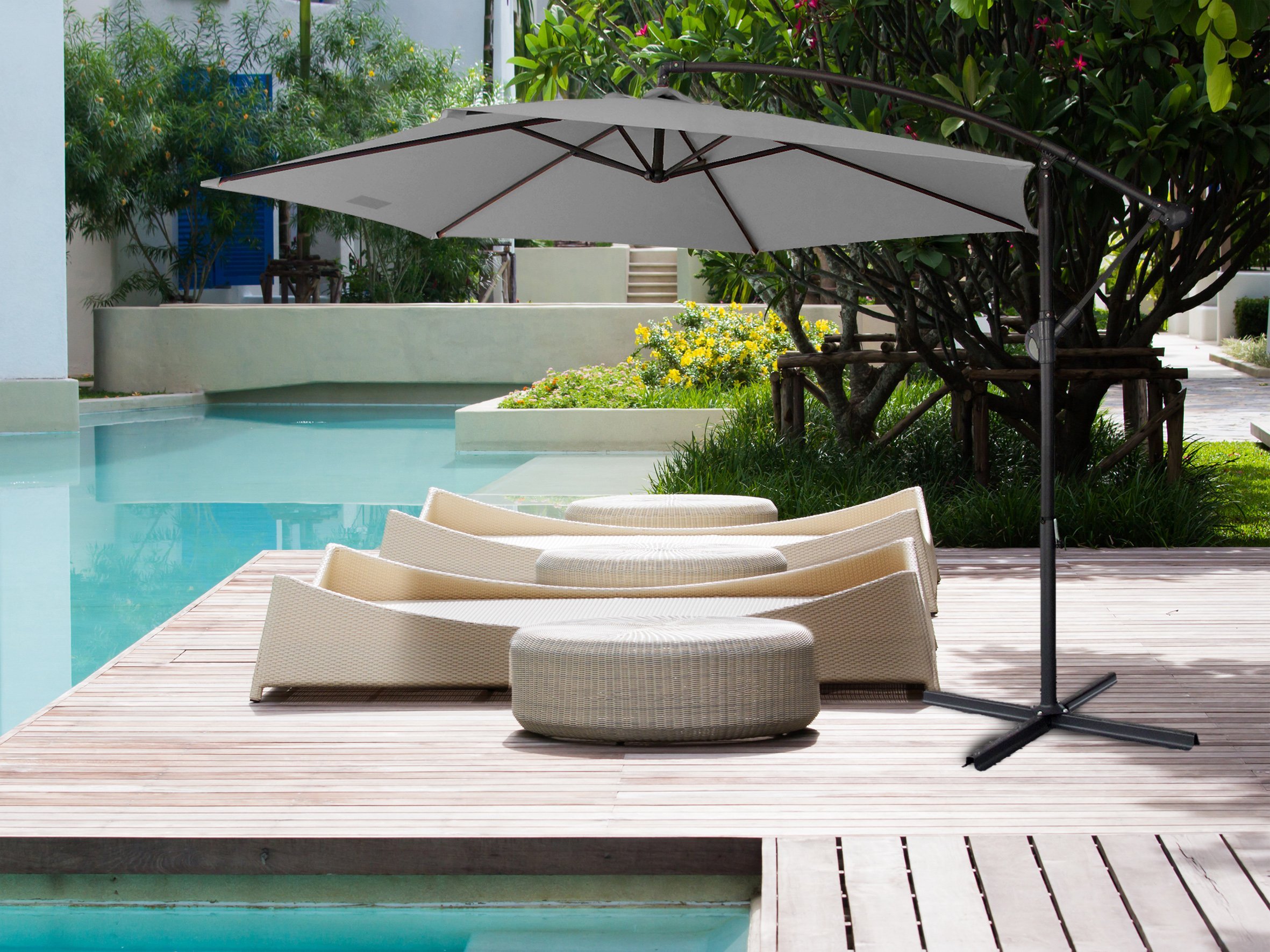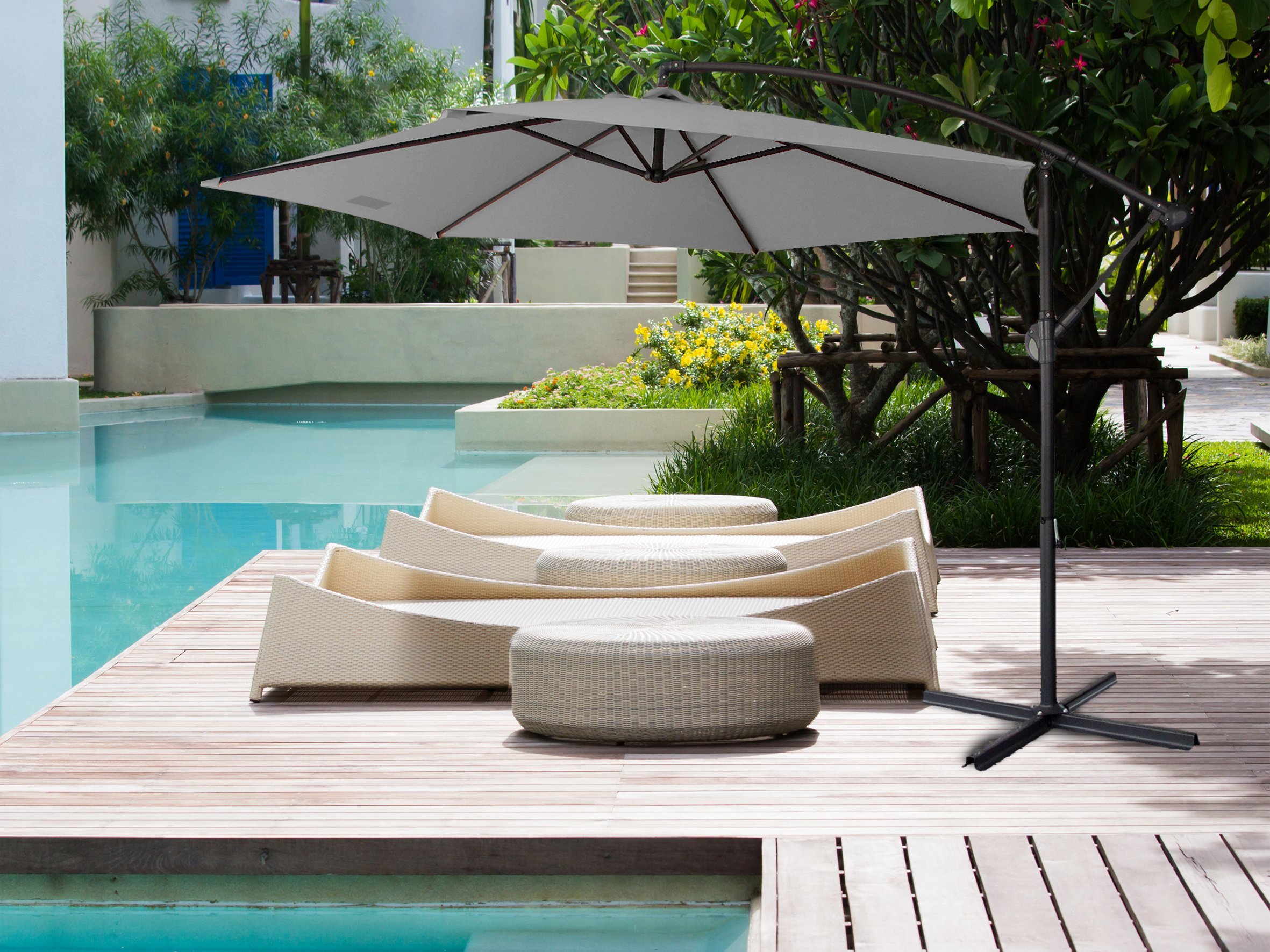 If you're feeling a bit handy & ambitious, you can even build your own patio umbrella at home and make it just-right for your personal style; it's also a bit cheaper to make than buy. You'll just need a suitable fabric, a metal or bamboo pole, metal wires, couplers, and metal rods. You'll put it together using a sewing machine and power drill. It's a bit of a project, but once you're done, you've got a unique piece that'll last you for a long time.
Shade Sails
Shade sails are pieces of cloth or fabric that you hang on top of your seating area on your patio; they're a common sight in Aussie backyards. They're also highly customisable, and you can choose from a wide variety of shapes, sizes, fabrics and colours to really make your patio shine with your personal look.
When you're setting up your shade sail, it's important to think about location, location. You see, the way the sun hits your patio will vary throughout the day, reaching different positions and intensities. Your shade sail has to be positioned correctly, and the fabric has to be thick enough to actually protect you from sunlight. With our harsh Aussie sun, it is essential that the fabric offers strong protection from harmful UV rays, while still allowing for natural light transmission. It's also advisable that the fabric is not completely solid: it should allow for hot air to easily escape.
You can buy shade sails online, and even buy them and get them installed from a local provider. They're relatively easy to make at home, or you can pick one up from Bunnings; check out their range here, and their video guide to installation here.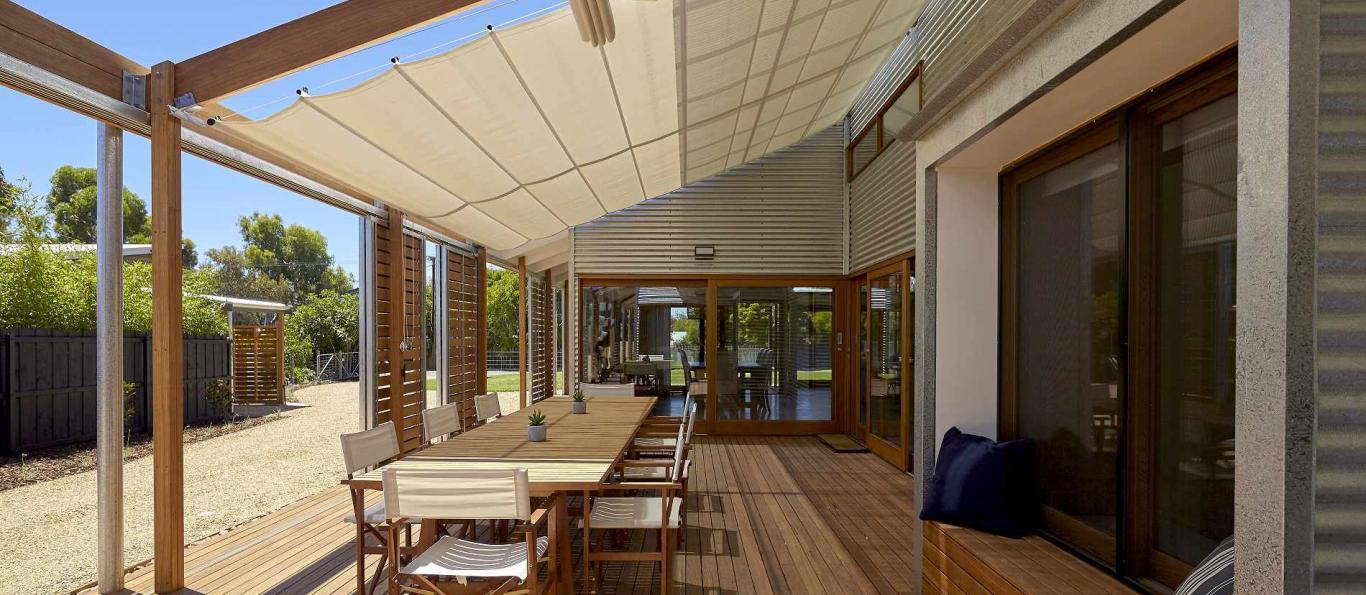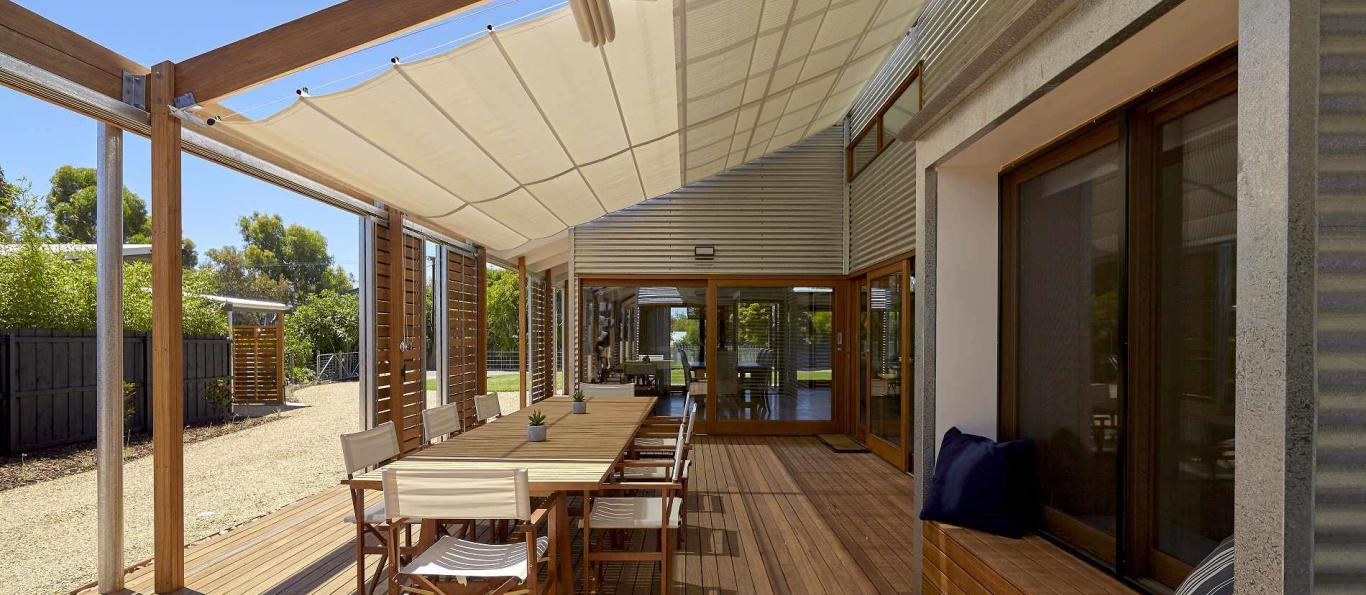 If you're looking for something a bit more unique, there are specialists who have a bit more scope in tailoring to your specifications, including retractable shade sails, wave shade sails, and more. If you're going DIY, just make sure it's big enough to cover the whole area, and you've chosen a fabric that's up to the Aussie sun; since a lot of Western Australian homes are exposed to harsh rays throughout the summer days, we'd suggest canvas with vinyl coating.
Misting System
Ohhh, that delightful feeling of the fine spray emanating from misting fans as you dine at a fancy restaurant, or running around with the kids at the many water features in Perth (we love the misting spray fountains at the new museum!) You can replicate this misty goodness in your own backyard, and we're not just talking about 90s-kid style running through your garden sprinklers: instead, you can up your misting game in style and subtlety with a misting fan or a misting system!
As you've already noticed, on a really warm day, a regular fan doesn't really do much. You're just blowing around that hot air, really. But misting fans use water to reduce the temperature, for an instantly cooling sensation. That way, the heat is more manageable for your friends, your family and the furkids.
You've likely seen the novelty handheld types of misting fans around; those are pretty helpful when you're on the go, but we're not thinking of that. We're talking about a seriously effective cooling device that can be used in everything from summer concerts to industrial settings to keep people cooler outside. They can range from seriously heavy-duty to patio-perfect, and are great for keeping your alfresco life up even when the temperature is in the 40s. Too cool!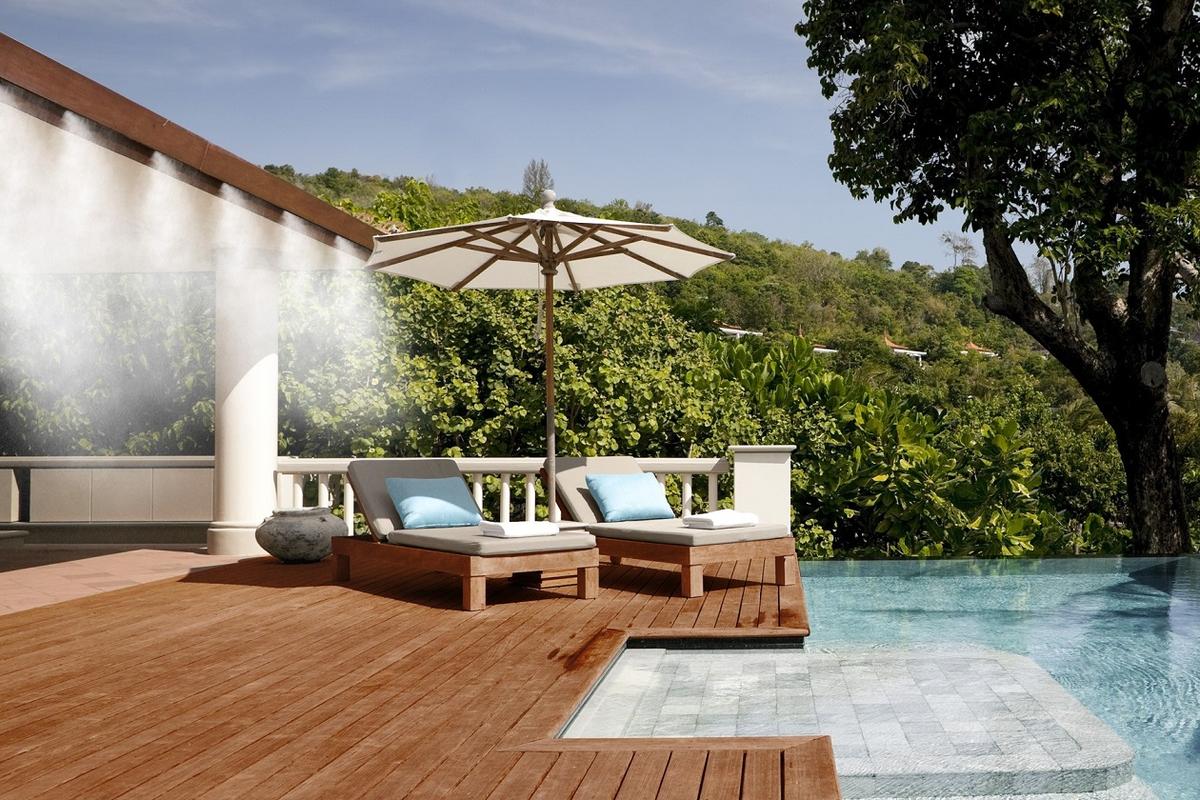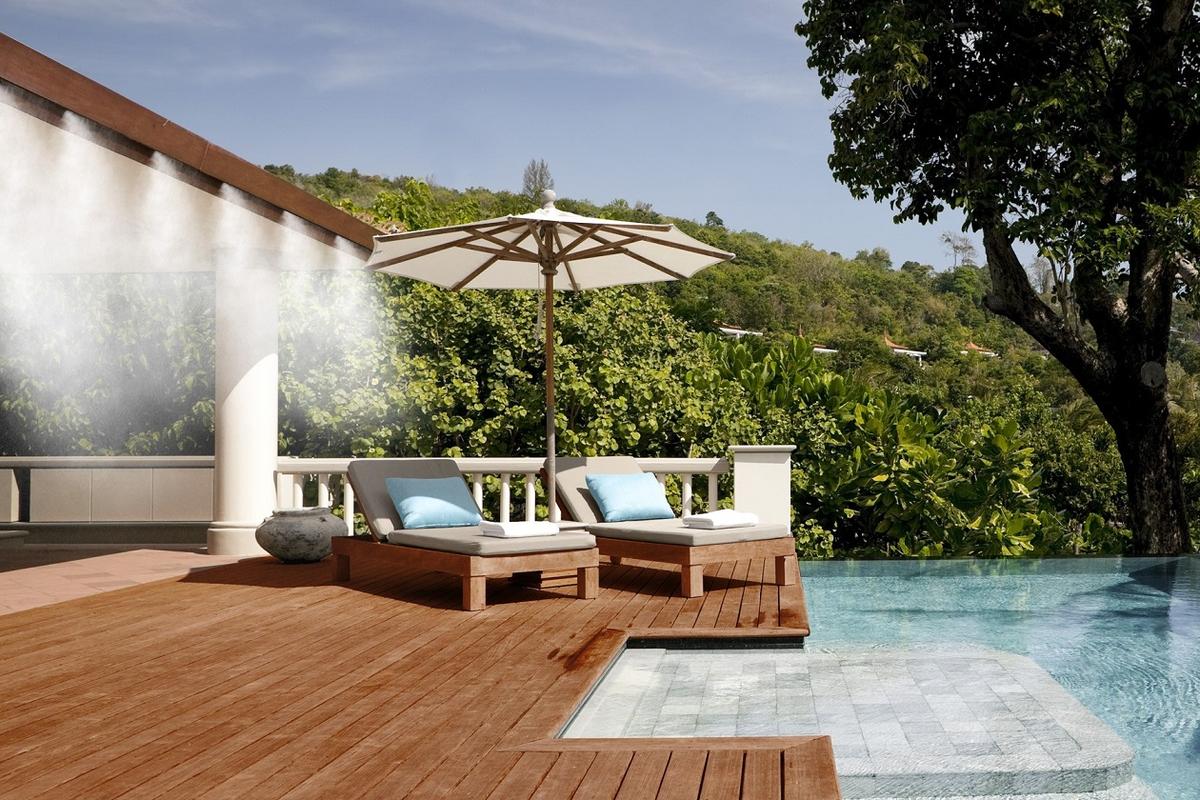 Ceiling Fan
Ceiling fans are great for covered patios, helping you to cool your space and make it cosier, especially in later summer when the weather is in the 30s but still on the uncomfortably-humid side. They're a common sight inside and outside Aussie homes, and there's so many options to choose from to keep your patio cooler while looking just-right, so why not get one (or two) to make things breezier?
Another benefit of ceiling fans is that they're out of the way, so they won't take up space on your patio; but combined with standing misting fans, they're an even more powerful cooling proposition.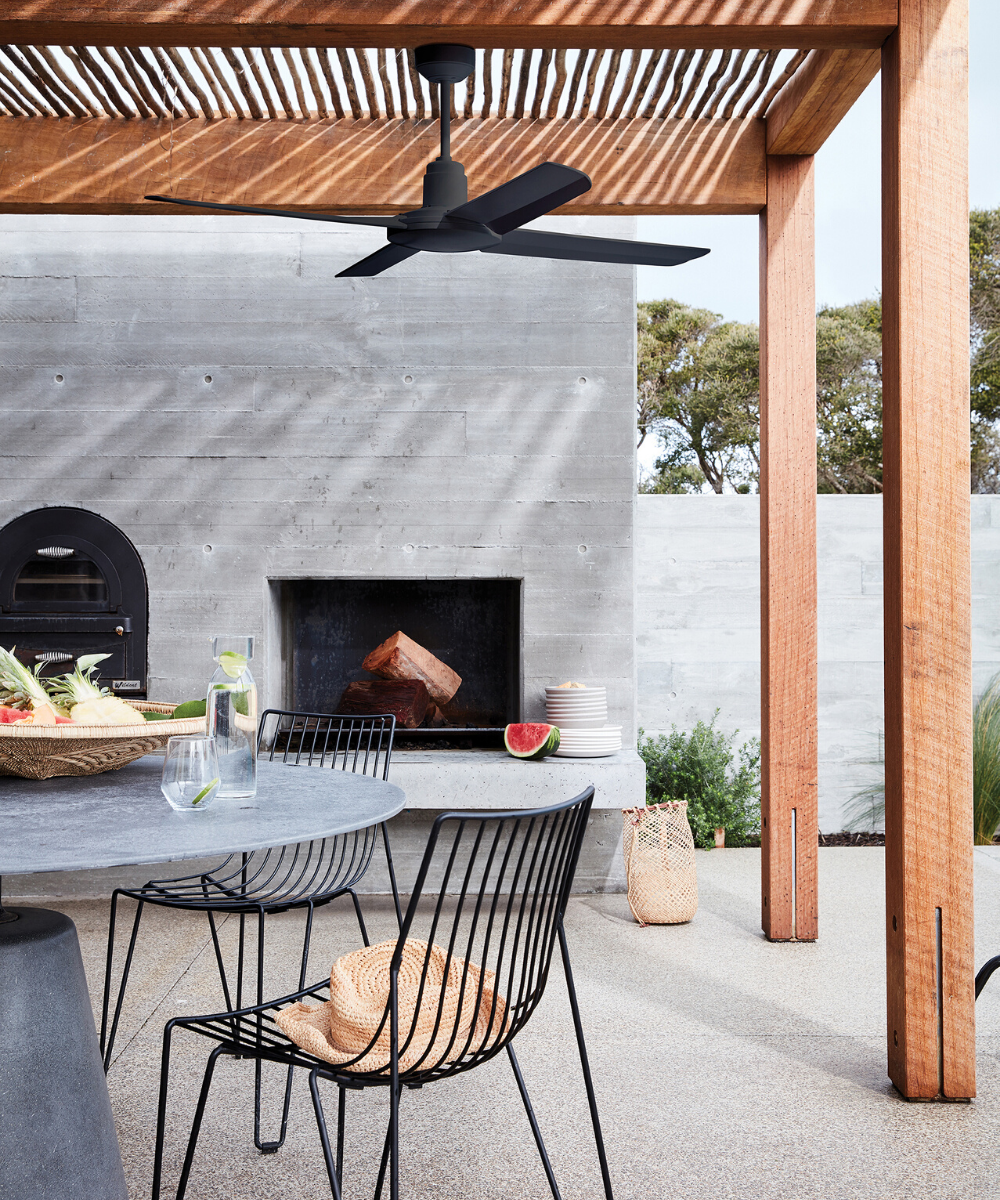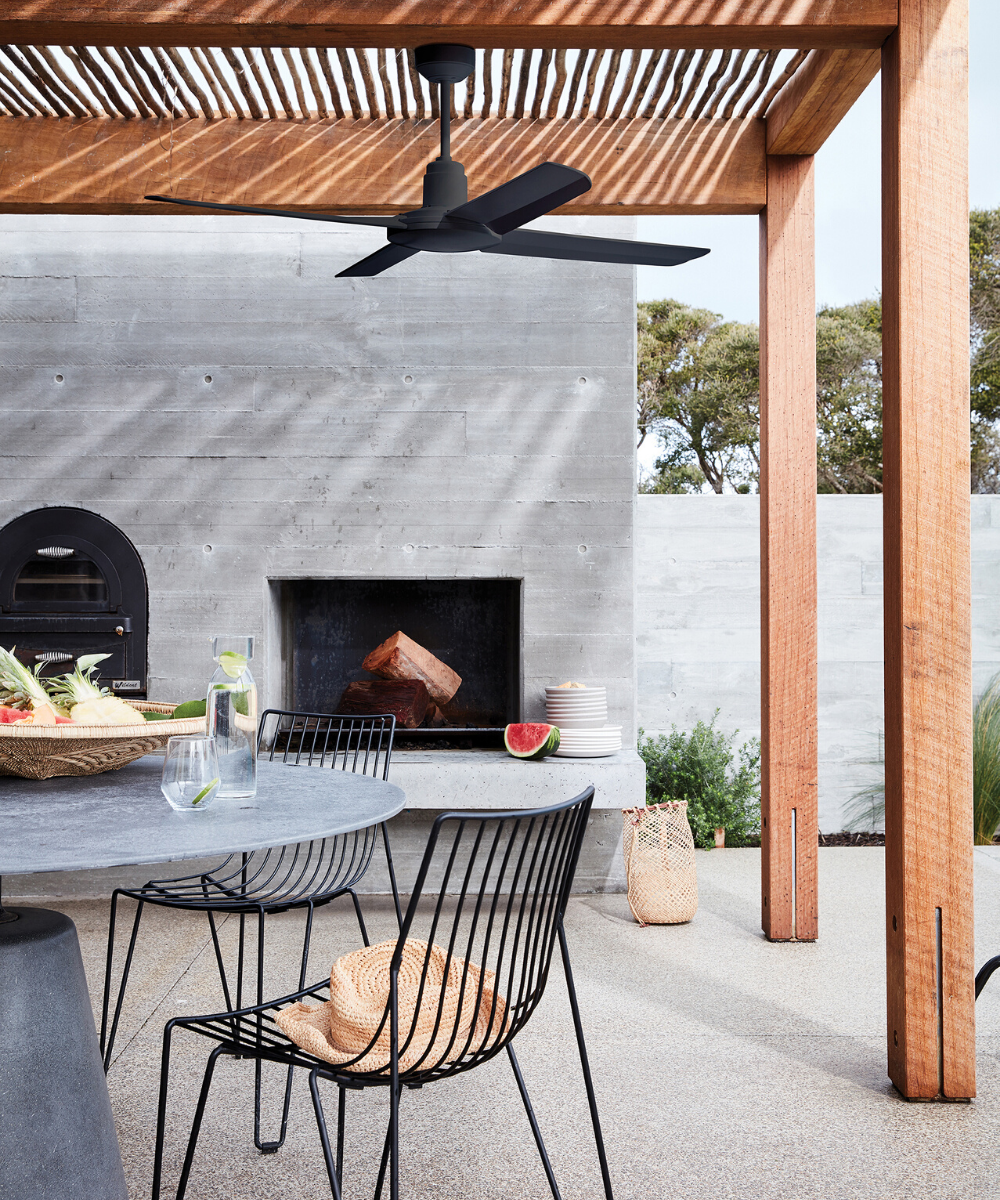 Outdoor Blinds
The unrelenting sun can do some serious damage to your skin, as well as your patio furniture; so if you're serious about living your best outdoor life without compromising on safety, outdoor blinds are the perfect choice.
Again, you've probably seen these at cafes, and maybe thought it'd be fantastic to have these at home; the good news is, you can, and many of the customers that buy outdoor blinds from us (or choose to have them installed along with a new Outdoor World patio) are residential customers. Outdoor blinds turn your patio into a perfect spot for year-round relaxation and fun, with top-notch privacy and sun protection to boot.
Check out our outdoor blinds; they're custom-made for your needs, from – Windmaster (built to handle WA's strong winds, and reducing heat by up to 94%) to Zipscreen (stylish protection from weather and insects), or from rope and pulley to crank handle systems. Our locally manufactured patio blinds are designed with all weather conditions in mind, so there's an outdoor blind from our range to suit everyone as you turn your patio into a secure, sun-safe sanctuary.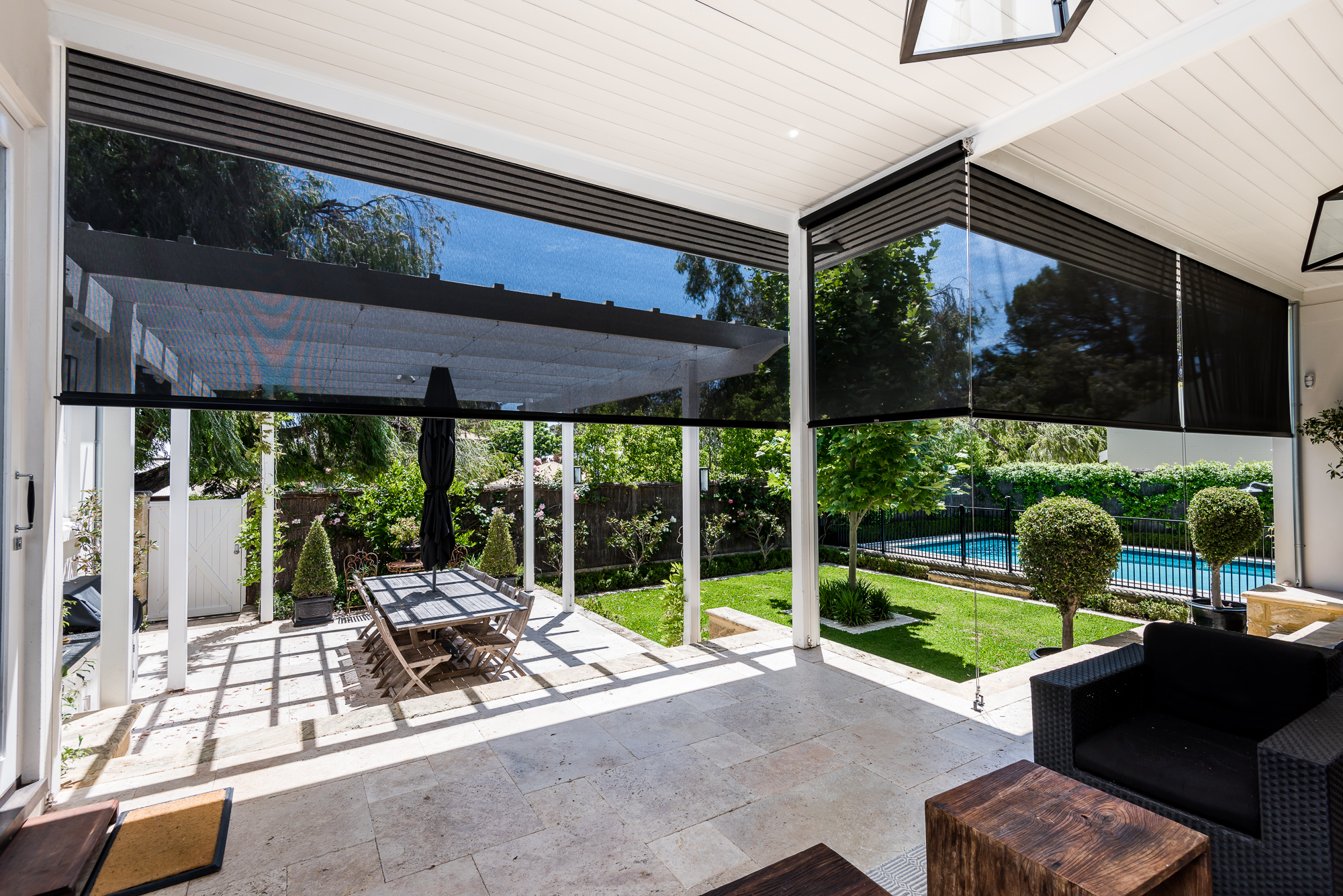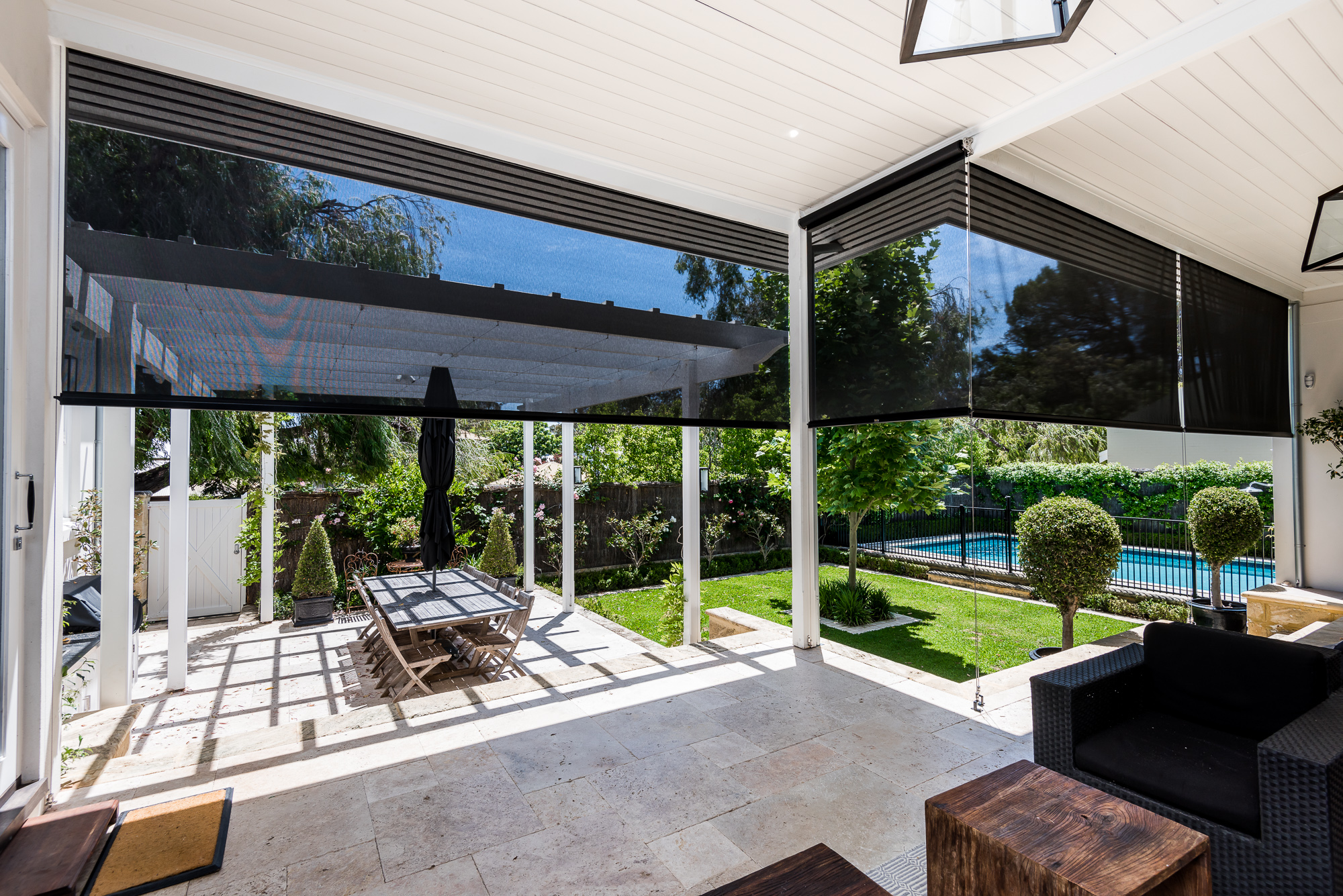 Rugs
Rugs might not be the first thing that comes to mind when it comes to keeping cool in summer, but if you've ever walked on a scorching hot outdoor surface, you'll know how hot they can get! An all-weather outdoor rug means you can enjoy your backyard barefoot, while adding a touch of style, because a great rug really ties the space together.
A word to the wise: not all rugs are suitable for outdoor use, so make sure your rug is made from suitable materials to survive the elements and strong enough for everyday use.
Placing an outdoor rug under your furniture means you can enjoy outdoor entertaining in perfect comfort, and it also helps keep your patio picture-perfect by avoiding scratches and dings that heavier outdoor furniture can cause to patios.  
Rugs are the ultimate versatile outdoors item, and there's so many available depending on your sense of style. Personally, we love the modern boho vibe of the Masika indoor/outdoor rug at Lulu and Georgia.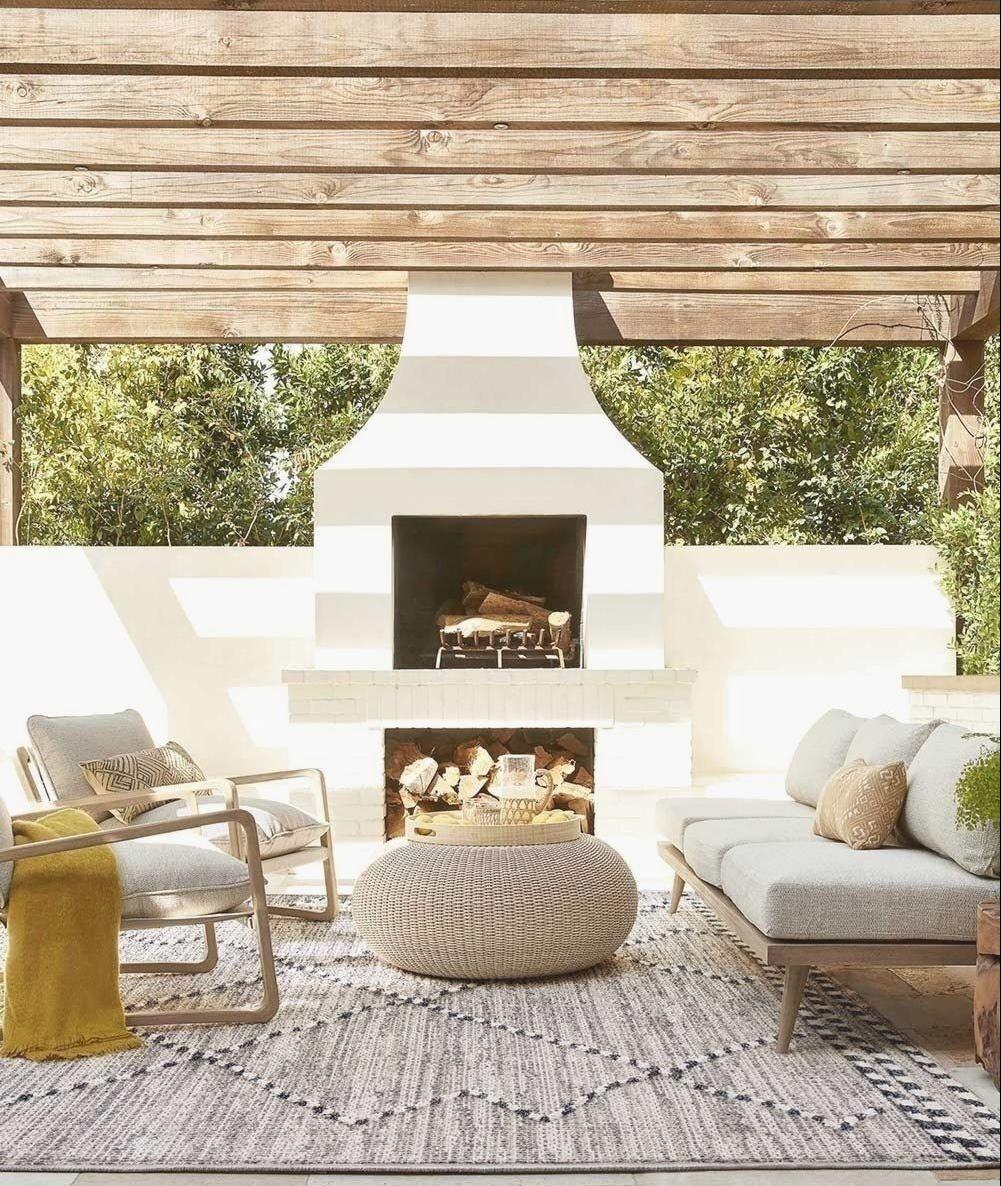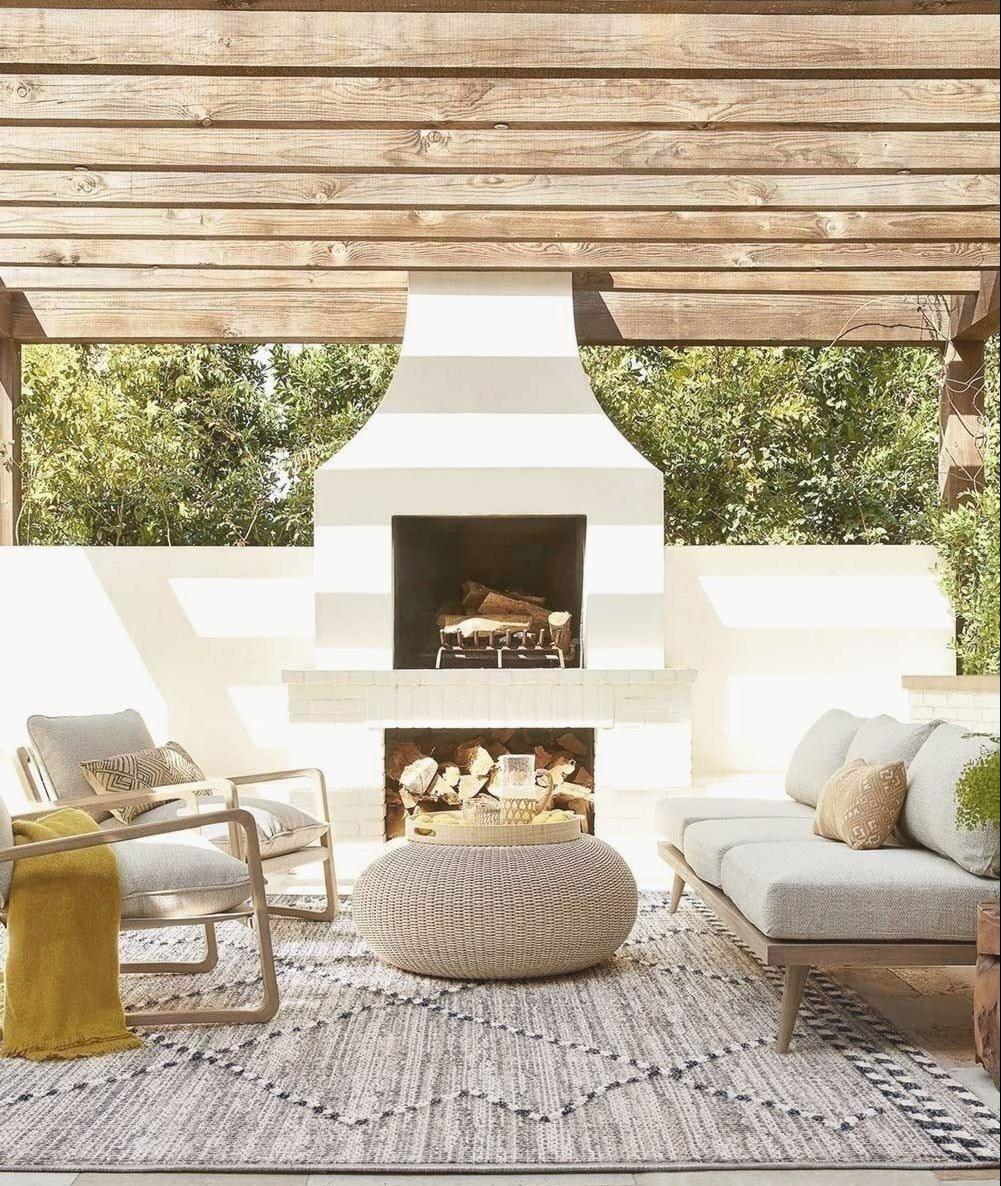 We hope that this article has inspired you to make your patio an even cooler place to be this summer! Check out our blog for patio ideas galore and plenty more. And of course, if you don't have a patio (or you're dreaming of a patio makeover) just mosey on down to our patios product category, and get in touch with the patio specialists at Outdoor World to make your dream patio into a reality.