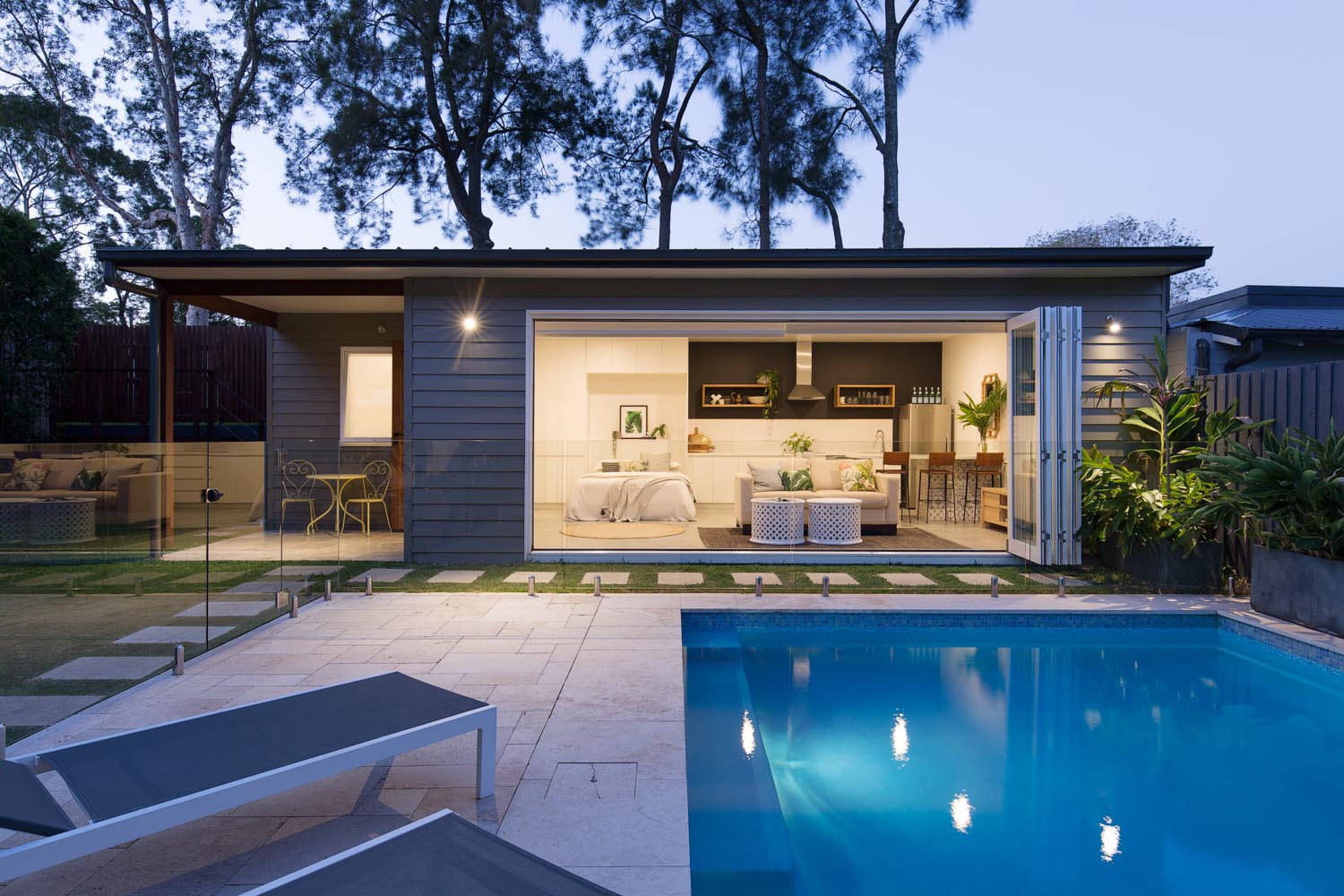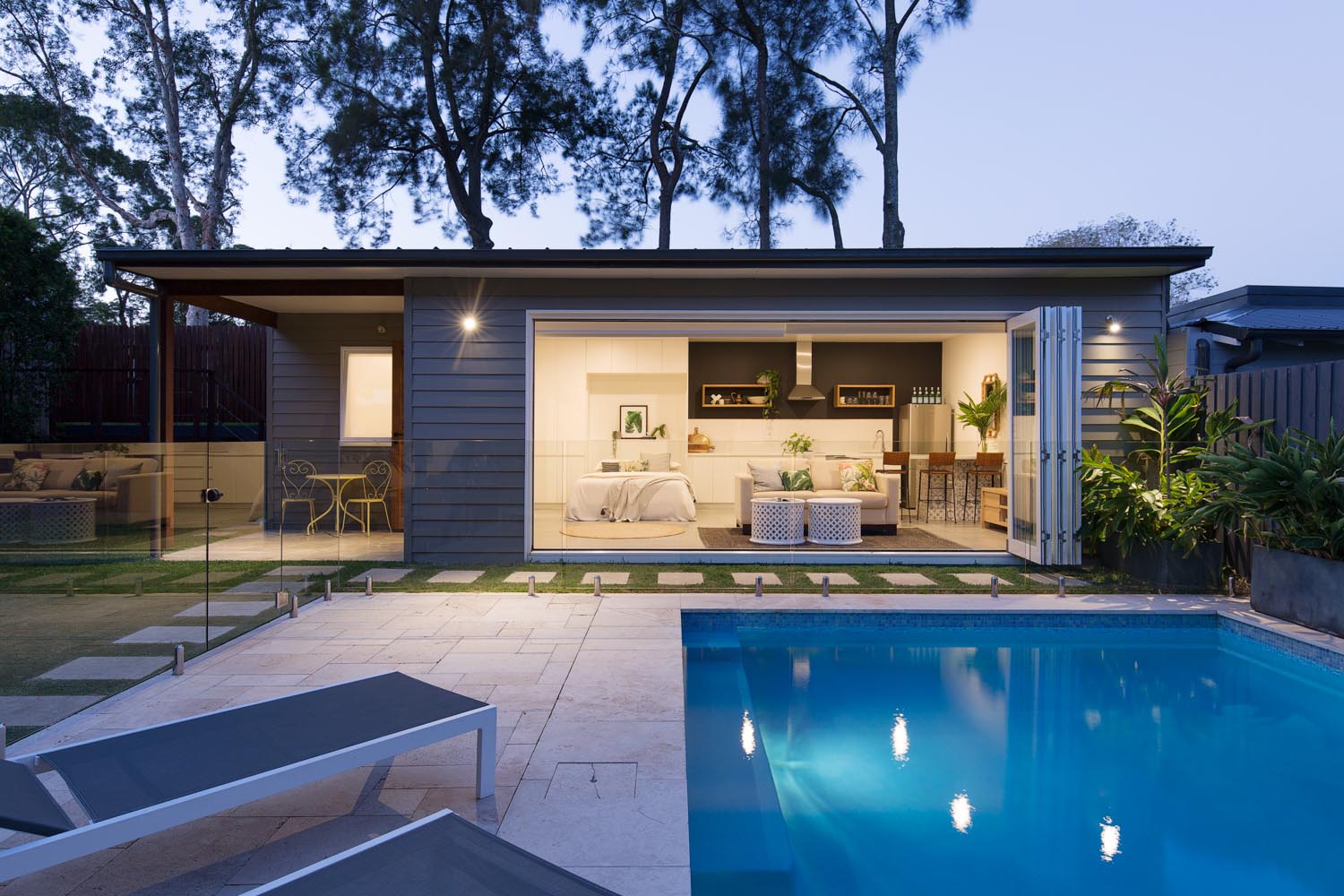 Credit: Heliconia
Thinking of building a granny flat? You're not alone! Many Perth and Western Australian homeowners turn to granny flats as a way to make the most of their outdoor space. Whether you're looking for a quiet space to call your own away from the hustle and bustle of the house, you have relatives coming to stay, or you're setting up a den for the kids, it's a really affordable solution. Not only that but judging from the number of granny flats on Airbnb and real estate websites, it can help you to earn some rental income from your own backyard!
Planning rules are increasingly relaxed for granny flats, known in planning-speak as "ancillary dwellings", allowing you to create more space outside of the family home for a retreat, a home office or your new side gig as a hotelier/property manager.
Here's some things to consider when building a granny flat in Western Australia in 2020, thanks to the granny flat devotees at Outdoor World.
The Outback (double-skillion) by Backyard Shacks
Council Advice & Approval
As of the time of writing, residential design codes limit granny flats to a max. floor area of 70m2; however, this can differ across local councils. This doesn't include outdoor spaces, so you can add things like patios, decks and carports – yay!
You can only build one granny flat on a lot, and building a granny flat does not allow you to subdivide your lot unless your local planning scheme already allows you to.
Before building, you need to know what planning regulations apply in your local area, such as minimum lot size, maximum floor areas, and parking requirements. Contact the planning department of your local council for further information; they can also advise you on other things you can consider, like additional bins, how your rates will be affected, etc.
Your granny flat will also require building approval to make sure it meets requirements for safety, health, amenity and sustainability. The Building Commission of WA can provide you with more info about this process, and you should also talk to the building approvals department of your local council. Here in WA, getting council approvals is actually a surprisingly quick process – usually around two months.
Utilities
If you're planning to inhabit your granny flat or rent it out, you're almost certainly going to need utilities – in other words, plumbing and electricity, and possibly gas. These will need to be installed by licensed professionals, and you should also contact relevant gas and electricity retailers and the Water Corporation to talk about your options. You may also need to get new meters or sub-meters installed if you plan to rent the granny flat out.
Depending on where the granny flat is to be located, installing conventional utilities can be tricky, so you may need to think outside the box. Fortunately, there are also plenty of eco-solutions today that are not only good for the environment but also make life in a granny flat comfier with less building hassles: composting toilet can be the perfect solution if your block is hard to connect to the main sewage or if a septic tank is not an option; finally, solar panels might be sufficient to provide power to the granny flat without requiring a full connection to the grid.
Insulation
Just like your home, a granny flat is somewhere that's inhabited year-round, and that means that insulation is a must. Well insulated floors, walls and ceilings will prevent heat from getting inside on hot days, and keep your granny flat warm in winter (as well as saving you money on power bills!) Reflective insulation is the most effective in hot climates. We've previously written about insulation for sheds here, and much of the same information applies – and if you're building a granny flat with us, we can insulate from the get-go!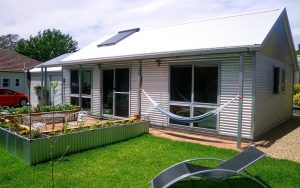 Renting out your granny flat
As announced in the Federal Budget for 2021, the Government will soon be treating granny flats as part of the residential dwelling for Capital Gains Tax purposes. This means that, even if you rent out a granny flat and generate an income (which you still have to report for income tax purposes), the granny flat is no longer treated as investment property, therefore no longer attracting CGT when selling the home which the granny flat comes with.
You'll find a bunch of information on the Department of Commerce here with the info you need to know about renting out an ancillary dwelling, including establishing whether a person is a tenant or a lodger; ensuring that the granny flat is an approved structure; selecting a tenant, requirements re: RCDs, smoke alarms and security. Make sure you know your obligations and rights, so you can do the right thing and vice-versa.
Given the proximity between most granny flats and main dwellings, you might also want to consider who you rent your granny flat to very carefully. Sometimes renting on a short term or medium term basis might be a great way to evaluate how you are enjoying the proximity, and who your tenant really is.
Similarly, you might want to consider privacy. If the granny flat and its dedicated outdoor area faces your patio, you might want to either relocate their outdoor living section, or add a fence or hedge or some sort of screening around it, as to give your home and your tenants' that bit of extra privacy.
Furnishing
It's important to note that as part of the Tenancy Act, any rental must come with a suitable kitchen, suitable window treatment and floor covering. Furnishing your granny flat fully, although not compulsory, will also make it easily rentable for short to medium term.
When building a granny flat, space is often a premium, so it pays to do your research around maximising space, storage and functionality, to make it an enjoyable space for people to live in. Happy tenants equal happy landlords!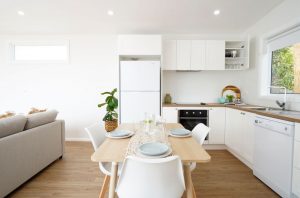 Inspired to add a functional, beautiful living space to your backyard? Here at Outdoor World, we're proud to be a supplier and installer of Backyard Shacks Granny Flats, the new, cost-effective and ingenious product range from the team at Ranbuild.
All Backyard Shacks are constructed with quality BlueScope Steel, to the highest level of specifications, so you can be sure that they will stand the test of time, even against the often-unforgiving Western Australian weather.
The Granny Flat range from Ranbuild includes nine innovative and unique designs, which include everything from convenient one-bedroom studios to much larger home alternatives such as the 4-bedroom open plan weekender.
The team at Outdoor World are not only experts when it comes to supplying your new Granny Flat, but our installation team will ensure a premium finish to provide many years of use from your new addition.
For those with some large project DIY experience, we are also able to detail thorough electrical and plumbing plans for each Granny Flat, making the construction of these units a piece of cake.
Granny Flats provide a great range of customisation options, especially in terms of roofing options and the ability to customise your internal wall layout.
All units are supplied with fully drafted floor plans and are coated in attractive and tough COLORBOND® cladding in your choice of colour, adding a further level of customisation with your granny flat installation project.
You can choose from a great range of Backyard Shacks Granny Flats, available in all COLORBOND® colours. We also offer a wide range of other outdoor products tailored to your needs, including lodges, patios and sheds. Want to know more? Get in touch!
The Outdoor World team is all about helping the people of Perth & Western Australia to make the most of their backyards, so keep an eye on our Ideas and Inspiration section for more posts like this.