Throw a Christmas Party Your Guests Will Never Forget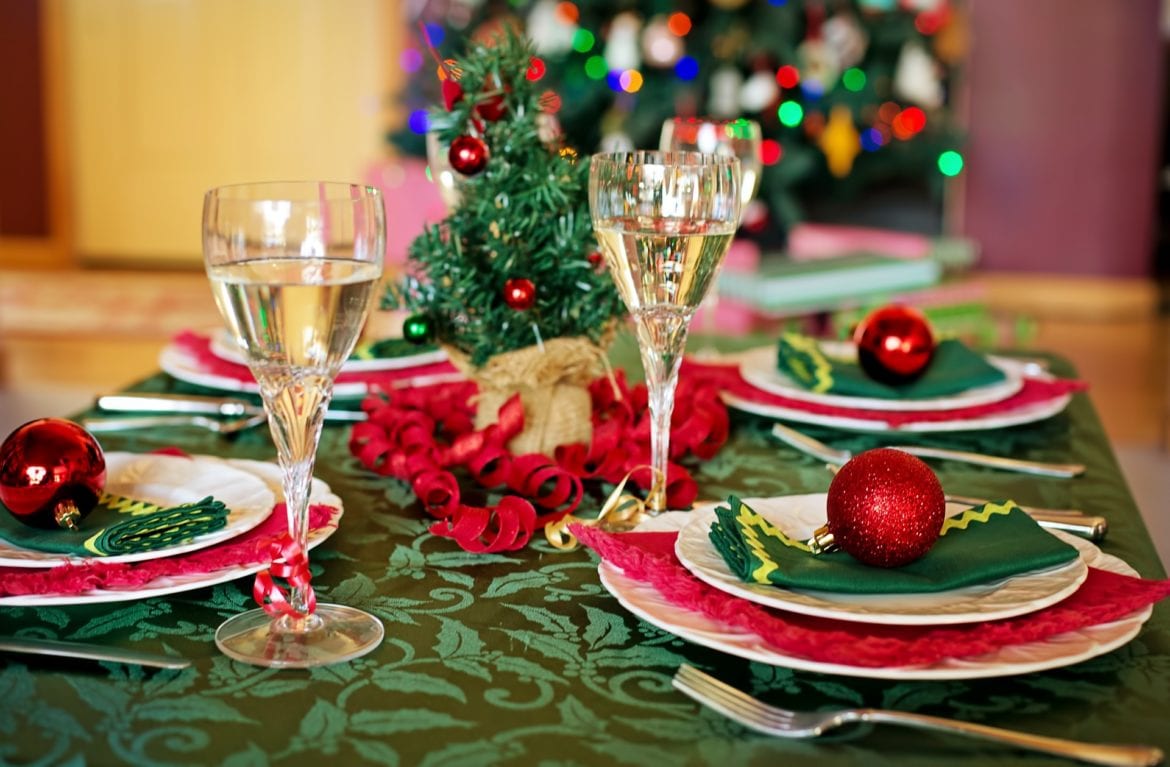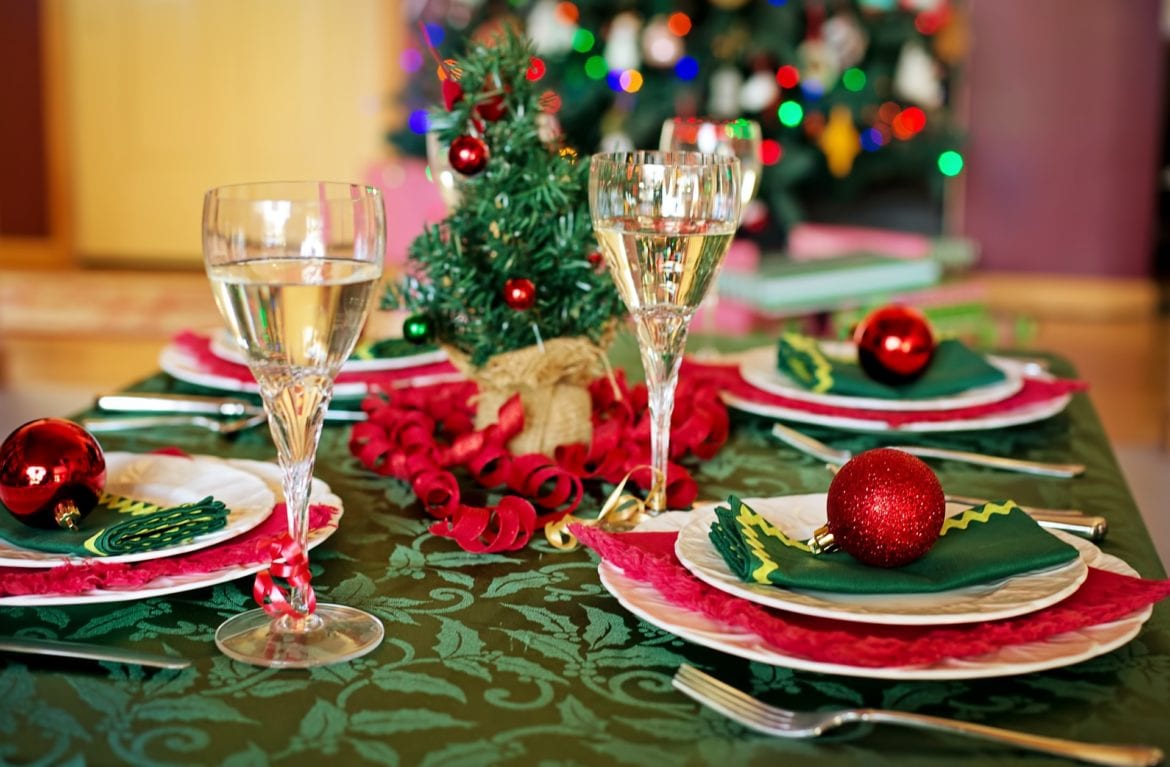 Posted: Dec 7th, 2017
In:
Patios
With the festive season now in full swing, many of us are preparing to attend a Christmas party or are hosting one of our own.  Here at Outdoor World, we've put together some tips on how to throw a killer party this festive season.  Whether you're entertaining for the adults or throwing a family-friendly event, your guests will love these extra Outdoor World touches.
Getting Your Outdoor Patio, Christmas Ready
Cleaning and setting up for your party isn't always easy or the most fun step in preparing for an event, but it is definitely one of the most necessary and important tasks on the to-do list. Start by giving your home and outdoor area a good clean, the weekend before your party. This will help prevent stress when doing your last minute preparations, on the day.
If you're hosting your party on your outdoor patio, be sure to use your yard broom to remove cobwebs from your patio, patio blinds or shed and give the area a good hose down.  With Christmas being in the summer months here at home in Australia, it's the perfect time of year to entertain outside, with the added benefit of making the clean up much easier. You won't need to worry about food or drinks being spilled and can easily hose down your patio with little effort the following day.
If you plan to use your barbeque, be sure to give it a clean in advance too.  We advise doing a mixture of some barbeque foods and Christmas themed finger foods, prepared the night before or earlier in the day. We've listed some of our personal favorite recipes later in the post.
If you're expecting more than just a few guests, make sure to dust off your spare chairs, or perhaps consider borrowing or hiring some for the evening. Setting up pallets as tables and chairs will also give a lovely rustic look and feel to add the cocktail style party vibe. For more tips on getting your outdoor patio area ready for your party check out our '5 Tips to Getting Your Patio Summer Ready' blog post.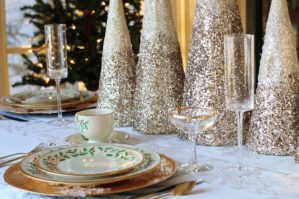 Adding The Decorative Touch
If you're anything like me, decorating is the fun part when hosting a party. I even store some of my favorite Christmas decorations in my garden shed. That way when it comes time to get creative and start decorating, all I need to do is pay a visit to the garden shed.
If art and craft is your thing, then there are plenty of ideas on Pinterest, but if DIY decorations aren't for you then you can just as easily pick up some bargains from stores like Red Dot, Kmart, Target and more. If your party is just for the adults, you may want to go for a more simple and elegant style, incorporating fairy lights and simple centerpieces. One of our favourite centerpieces that won't break the bank is using a Christmas reef with a large candle, in a clear glass candle holder, placed in the center of the reef. This will give a stylish touch to any table especially with a white linen tablecloth or undressed rustic table.
On the other hand, if there will be kids at the party it's a good opportunity to have a bit more fun and make your outdoor patio party as magical as possible. Hang coloured Christmas lights and purchase some blow-up novelty Christmas characters. Kids will love this and it's a very easy way to transform your outdoor patio area into a Christmas wonderland.  You can even move your Christmas tree onto your patio for the evening to create a lovely focal piece and give your party that instant festive feel.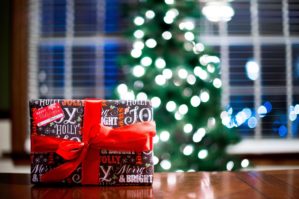 Who's Your Secret Santa?
Add a little bit of childlike fun to your evening by having a secret Santa lucky dip, on the night. You can invite your guests to participate when sending out your invites. Guests can then buy a little unisex secret Santa gift that is placed on a table, each guest draws a number out of a hat and depending on which number they get, they can select a present from the table in number order.  
A separate secret Santa can be done for the kids. Doing a secret Santa this way will make sure no one misses out if a guest cannot make it at the last minute. Depending on your budget, you can also make your own little gifts for your guest to take home. Christmas shaped shortbread cookies or Christmas coloured candies in cute boxes are a great and inexpensive gift idea, that your guests will love. After all, who doesn't love cookies!?
Fun With Christmas 'Snow' Breakers
Christmas games are a great ice breaker, particularly if you have guests attending that don't already know each other.  If there are kids at the party, it's also a great way to keep them entertained. To make it a little easier, I have listed some of my favourites.
Christmas charades- This one is pretty self-explanatory, it is the same as regular charades except with Christmas characters such as Santa, Rudolph, Mrs. Claus, a snowman, Grinch, Christmas elf, Scrooge and other famous Christmas characters.

Pin the tail on Rudolph- You can draw your own Rudolph, or there are plenty of printable. Rudolphs online. Alternately you can also order this online.

Christmas trivia- The same as regular trivia but with questions relating to Christmas.

Christmas karaoke- This one is fun for both kids and adults (particularly after a wine or two).
Create An Irresistible Christmas Drinks Menu
Christmas themed drinks are a sure way to turn a regular party into a festive one. Punch is a must have for every Christmas party and is so easy to put together and leave out for your guests to help themselves.  There are so many different punch recipes to choose from online and adding some frozen berries and mint leaves is an instant way to jazz up a regular punch and give it a Christmassy feel.  
You can even make a non-alcoholic mocktail version for the kids. Another way to add some Christmas magic to your drinks is by adding some festively themed charms to your wine glasses, this will also stop your guests from mixing up their drinks. One of our favourite Christmas cocktails is a White Russian. Adding a little cinnamon on top and a glacé cherry to the side of your glass will give you the Christmas feel you're after.
For adult parties you can even make vodka jelly shots using red and green jelly, simply fill half of the glass with the red jelly and vodka mix and refrigerate. Once this has set, add the green jelly and vodka mix and allow to set in the refrigerator again.