Patios Built for the Aussie Sun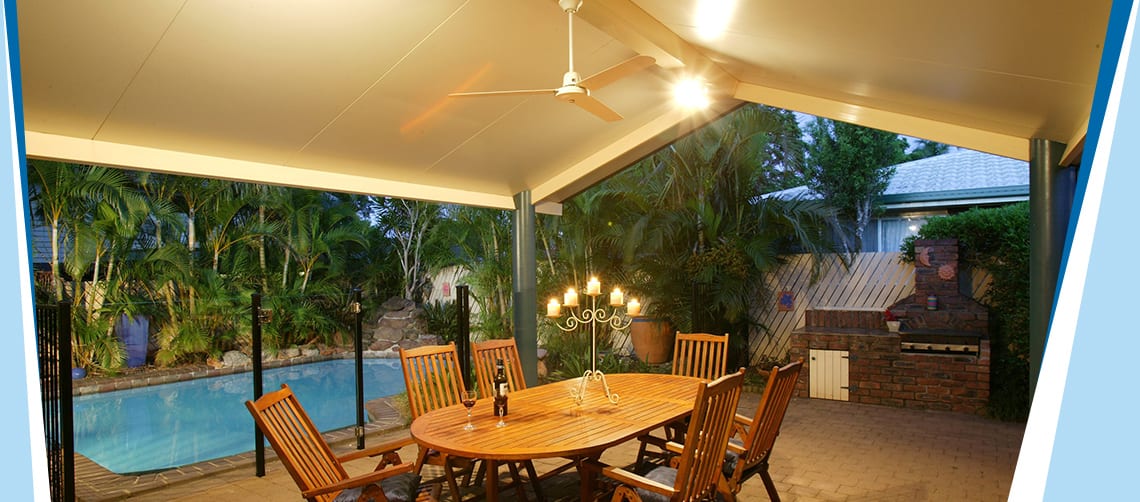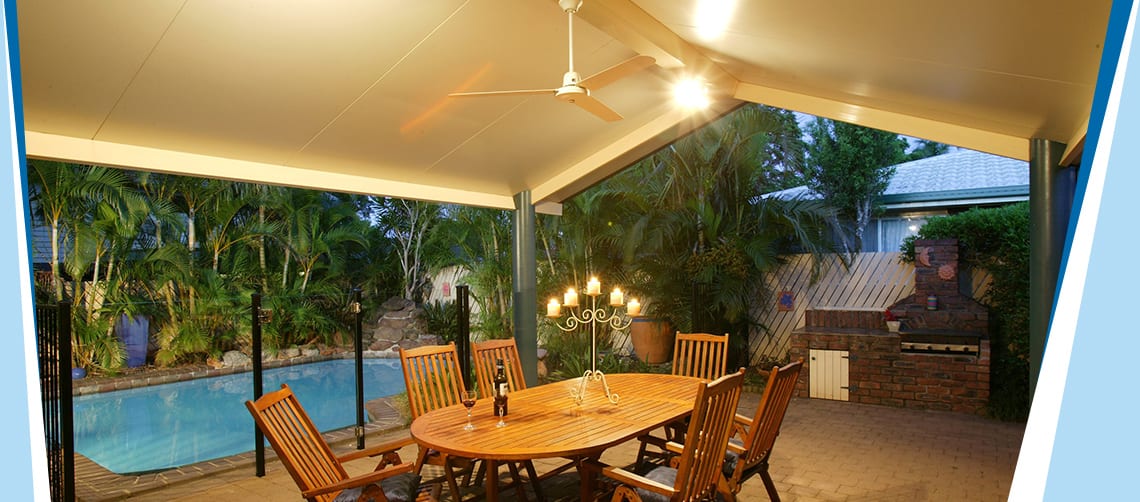 Posted: Sep 18th, 2017
In:
News
30 Second Summary:

Try the patios that the people of Perth have embraced, to add value to their homes and entertainment to their day-to-day!
We're a Perth owned and operated company, with patios designed for the Aussie sun.
Maximise your outdoor space and enjoy your backyard more with Outdoor World.
Looking for patios built for the Aussie sun? With summer on the horizon, it's time to start preparing for your Christmas and New Year family gatherings. Have you considered a gift for the whole family that will keep you safe from the elements, whilst saving you money, through increased temperature control? Try the patios Perth have embraced, to add value to their homes! There's nothing better than maximising your outdoor living space, and improving the enjoyment of your backyard. Whatever your size, space and requirements, there are patio designs to suit your needs. So, let's explore the most popular patio varieties, and better understand the benefits behind the patios Perth love.

1) Gable Patio
Classically designed, gable patios can be combined with flat roof patios or used standalone, to be tailored to your needs. Opening up your alfresco space can enhance the use of your existing backyard layout. You may want to extend your outdoor living space into a stylish entertainment area. This can create a multipurpose zone, whatever the elements, which you can light and decorate to set the scene you desire. With a peaked roofed style, similar to dome patios, it makes the most of natural light (no matter the season), whilst allowing maximum air-flow during hot summers, to minimise energy and lighting costs.
Outdoor World has a large selection that can be explored here, if you're looking for ideas or quotes on what's available. Perfect to withstand Perth temperatures (and protect from the rain or sun), the exclusive high gloss heat reflective cladding works well with all gable patio designs. And there are great COLORBOND® steel options to match any colour scheme, so review this chart to start your planning. Visit your nearest Outdoor World to see some inspiring examples.

2) Flat Roof Patio
Seeking the ideal flat roof patio for slick flow, or clean design lines? Whatever your budget, or style preference, a patio can be constructed and designed to suit all lifestyles, and weather requirements from Carnarvon to Esperance. Over pathways, or entry ways, flat roof patios can seamlessly extend your roofline, and are excellent if you're looking to add on an outdoor kitchen or lounge. It's flawless, so you'd never guess it was an extension.
The COLORBOND® steel options can be selected to tie in with existing roofing, walling, garage doors, gutters, fascia, downpipes and sheds for great street appeal, to improve the resale value of your property (in this current market where you need to stand out). With 22 perfect colours to choose from, you can learn more about the possibilities via this brochure, as this tough and durable product has been proven to stand the test of time.
Whether it's merging your garden with your indoor space, or setting a tranquil mood with fountains or water features, the flat roof style can be researched more via this link to gain a better understanding of what you may need, and the costs involved. Aside from the images available there, you may wish to attend your local Outdoor World, and you can find a store near you here.

3) Hip End Patio
Perth adores hip end patios because of their versatility when protecting from the elements over pools and spas, and creating defined dining and BBQ gazebo style options, away from the main house. Aside from protecting your family and children from harmful UV rays when swimming, these can also help reduce water loss from evaporation, whilst extending the use of your resort style facilities all year round! Stay dry in winter and sun smart during summer, with patio designs that can be suited to your existing surrounds and architecture, whether freestanding or attached as part of your home.
With the same benefits as outlined for a gable patio, but with extra style and customisation ability, this can fit any structure. Think fire pits, or gas heaters, and get creative with the new possibilities for your current outdoor space. Maybe a pizza oven, or a bar and a pool table? Else, add in blinds to further enclose spaces when needed. This can protect you and your outdoor furniture from the elements, helping to retain heat when needed or allowing the breeze when not, to minimise your heating and cooling costs. Extending the life of these investments, helps to save you money in the long run.
The COLORBOND® choices available are backed by a range of warranties, resisting paint peeling, chipping and cracking, and are strong plus lightweight, to meet current and emerging environmental and building design regulations, plus guidelines. Likewise, standard COLORBOND® steel colours include Thermatech® technology, reflecting heat from your roof surface. So, combined with insulation and good design, COLORBOND® steel can help you keep cool during the upcoming Perth summer. For more advantages of COLORBOND®, see this link.

4) Dome Patio
Dome patios are a popular style Perth-wide. Recognisable by the curved roof that allows extra height for storage, the increased airflow helps cool your family and guests during hot summers, whilst allowing extra natural light, great for winter too. These aspects prove to be cost effective, and multifunctional, with the elevated roof often used for offstreet parking and protection of assets such as cars, boats and motorhomes. This versatility can also benefit entrances, additions and walkways, to maximise the spaciousness around your home. If you have existing high windows, the Dome patio style also reduces view obstruction.
Additionally, the airy light design of Dome patios is ideal for impressive pool areas, by extending their use across the seasons, whilst reducing your family's exposure to the cancer causing rays of harsh Perth summers. Protect your vehicles, furniture, spa or pool surfaces from weather damage, whether that's fading from the sun, or otherwise – come rain, hail or shine, you're covered. With COLORBOND® steel roof options, or polycarbonate roof sheeting you're guaranteed to find a material to suit your needs. Investigate further here, to decide if a Dome patio is the one for you, with downloadable fact sheets available via this link.
To give you a brief overview, there is a lifetime warranty on UV safe polycarbonate. This clear sheeting allows 90% of available light into your space, with its surface protection preventing UV degradation of the sheet to prolong its life, reducing the yellowing of sheets over their lifetime. Its impact strength is up to 250 times that of tempered glass, being strong enough to resist damage from even heavy hail. Often selected for outdoor family and children's play areas, polycarbonate sheeting provides 99.9% protection from harmful UV rays that cause sunburn and skin damage. As an added return on investment, these outdoor rooms enhance family life, whilst increasing value to your property.

5) Insulated Patio
With more extremes in temperatures, the need for insulated roof patios Perth-wide have become a more common occurrence. As for insulated patios, Perth embraces SolarSpan® panels which provide a combination of roofing, insulation and ceiling in one. For year round comfort, insulated patio panels reflect heat and prevent your family roasting in outdoor living spaces. Minimising exterior noise, they're guaranteed for 10 years for peace of mind, and available colours to suit any environment. SolarSpan® by Bondor – 'The Original' Insulated Patio Roof in one attractive panel, transforms the simple patio concept to modernise and improve lifestyles, adding value to homes, with the least amount of effort. To see the styles that SolarSpan® can work with, review this brochure. It also outlines how heat is blocked by SolarSpan's high performing polystyrene core, which helps to save you money, with the quick modular design reducing build time and costs. Likewise, Bondor –InsulRoof is another superb option.

6) Eclipse Opening Roof Patio
Eclipse louvers are a super trend for embracing the sun, Perth style! With Eclipse louvers, Perth families can choose to get a bit of sun when needed to warm up, else when to protect themselves from the elements (during the harsher hours of the sun). In summer, louvres can also be left slightly open to allow hot air to escape, whilst providing sun protection. And in winter, they can be closed during times of rain, or angled to attract natural light or warmth to save on energy costs. The flexibility is endless, as it can be constructed either pitched, angled or flat, meaning you can adjust light or shade as needed, depending on Perth weather conditions, for complete control. For more insight on Eclipse opening roof patios, see this brochure and gallery that gives functional and impressive ideas, plus an overview on this Australian-designed concept to handle extreme heat, strong winds and corrosive coastal WA environments.
Remember, an Eclipse Opening Roof System can lower your energy costs, provide years of trouble-free operation, and can even be meshed to protect against insects. Try installing vertically for privacy screens, or over pools and spas to maximise enjoyment of the elements. Whether you have sensitive skin, or are concerned about the health risks from exposing your family to the sun, there's a lot to love from full light, without direct sunlight. Aside from blocking out the heat and keep cooling costs down, via natural convection, natural light saves power consumption. You can see why these are the louvers Perth has fallen in love with. It's up to you – wind, privacy or sun block, or drain away light rain, or add optional electric sun tracking? Do you need balcony, wall or roof applications, plus temperature, ventilation, rain and security control?
Position Eclipse open roofing placement to reflect light, or add light to previously cold, dark or dank spots, with options for little or no electricity. Learn more about passively solar heating your outdoor area, whilst helping in humid locations, via this product in store. Or, ask our staff online, via the contact us page to answer all your questions.
Have you made up your mind on what patio is best built for your conditions? Escape the Aussie sun, with summer on the horizon, and get the most use from your outdoor living via Outdoor World patio options. Get a quote here – or look into interest free finance methods via this link, if that's needed. Review more about Outdoor World patios, so you can make the most of this upcoming summer, and maximise the great outdoors in your own backyard.
Bring the family closer these holidays, by improving the communal spaces in your home. You'll save money, as you'll never want to leave, once you set up your secluded oasis. For other great ideas around the home, or things to consider when building your patio and more, check out our  Ideas & Inspiration space, and our patio information category.
Visit the Outdoor World website for handy home improvement products, and bond with the family in a sanctuary that adds value and enjoyment, to make your house a dream home.